NMI and ClickFunnels brought together by Gateway Funnel Pros!
ClickFunnels is the way to go when you launch a new e-commerce venture, but you already know that. What you probably also know is that when you sell online coaching, supplements, and other hard-to-place products, you used to have a hard time finding a way to accept payments. No longer! With Gateway Funnel Pros, we'll set you up with the NMI payment gateway. This allows you to lean back and basically let the payment processing side of your funnel take care of itself!
We'll seamlessly integrate NMI with your ClickFunnels platform for you. In fact, should you need it, we can also vet different merchant accounts to make doubly sure you're getting your money's worth – getting the most out of every dollar processed.
The end result? You get the best out of the ClickFunnels site builder, knowing for sure that you avoid unnecessary problems accepting payments. In fact, we'll help you manage and mitigate fraud and can put up safety nets in case your merchant account is shut down. All of this, while using the NMI payment gateway.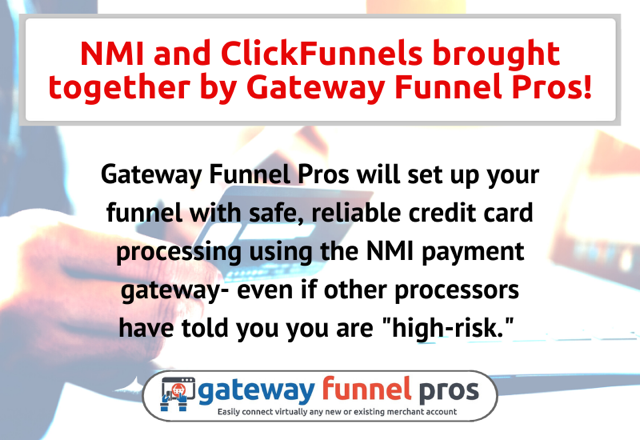 Accept payments when integrating NMI with ClickFunnels
We help ClickFunnels business ground-breakers accept payments for a huge range of tough to place products and services. If you were rejected or terminated by Stripe or PayPal, then we have the solution for you! If you're a business guru and entrepreneur who sell supplements, online coaching, mastermind events, or health and wellness products and services through a fantastically built ClickFunnels platform, we have the solution you're looking for. Use the Gateway Funnel Pros NMI service!
Do you sell t-shirts and various accessories in addition to your coaching program? Or maybe you sell novelty coffee cups in addition to your supplements and health teas? Then we could, if you wanted, hook you up with multiple merchant accounts – route it all through NMI so that you only need one login area to manage your business – and we'll integrate it all into ClickFunnels for you.
You already know ClickFunnels has revolutionized how you can sell and market your products and services. We want to help you by doing the same for your credit card processing! No longer do you need to deal with endless rejections, frozen accounts, or even held funds. With Gateway Funnel Pros, we'll set you up correctly with NMI for safe, reliable, and generally exceptional credit card processing – even for high-risk merchandise sales.
Gateway Funnel Pros and NMI make online sales simple!
We're huge admirers of what Russel Brunson achieved with ClickFunnels and how it turned a complex process into a walk in the park for all entrepreneurs to take advantage of. Making the difficult simple is what we'll do for you when it comes to accepting payments for mastermind events, online coaching, supplement sales, and general self-improvement products and services.
It used to be a real pain to get the merchant account and payment gateway you needed in order to sell these products. It was hard to find the information you needed. It was even harder finding a payment processing partner that actually values and appreciates your business! No more!
With us at Gateway Funnel Pros, you have someone who'll be in your corner from day one. We'll make sure you have the easiest time possible processing credit and debit cards, even if you've been terminated by Stripe or PayPal.
Ready to start?
Are you ready to start getting the most out of every dollar while selling your products through ClickFunnels? Of course you are! Get NMI for your ClickFunnels today.
Are you ready to stop worrying about whether your account and gateway will stop working unexpectedly just because your product type is "high-risk?"
Are you about to launch your next funnel but need a merchant account and payment gateway? We've got you covered!
Or maybe you need a backup merchant account? We'll help get you sorted!
Contact us today by giving us a call at 1.833.227.7671. We're always happy to answer all your questions and give you the intel you need to start accepting payments easily through ClickFunnels by integrating your funnel with NMI.
Let Us Help You PREVENT CHARGEBACKS and DISPUTES!
Chargebacks can be the largest reason for 'black marks' and loosing your merchant account or payment processing … leaving you HIGH and DRY with no way to collect YOUR hard earned money. ASK US how we can help you STOP CHARGEBACKS and DISPUTES BEFORE THEY HAPPEN!

Ready to Get Started?
Choose an option below to add the NMI Gateway to your ClickFunnels account
CONFUSED? Call Us Now …
Toll Free: 833.227.7671
---
What did Russell Brunson say
about us at Funnel Hackers Live?
Click play on the video below.