Terminated by Stripe, PayPal, or Square? Here's what to do next!
When you're launching a new sales funnel or e-commerce website, credit card processing is often an afterthought.
For most business owners, adding Stripe, PayPal, or even Square is as simple as a few clicks within your funnel builder or shopping cart software. But – what do you do if you are declined or shut down by a payment gateway provider?
At Gateway Funnel Pros, we'll help your honest, ethical business accept credit card payments for tough-to-place or high-risk products, even if you've been declined or terminated by Stripe, PayPal, or Square.
Beyond providing payment gateways for funnel builders like ClickFunnels and Stripe and PayPal alternatives for agency solutions like GoHighLevel, we work with nearly every major shopping cart as well.
We'll set you up with an easily integrated payment gateway, pair you with a vetted merchant account, and have your credit card processing back up and running in no time!
If you're wondering what to do next after being terminated by Stripe, PayPal, or Square, then you've come to the right place!
All you have to do is get in touch with our team at Gateway Funnel Pros.
Simply provide us some basic info about your business and lean back while we take the wheel and get you set up with payment processing you can rely on.
If your sales are though ClickFunnels, we'll make sure you can take full advantage of the fantastic features it offers, including Sticky One Click Upsells.
We can even help you set up an "emergency" backup merchant account, should you want or need it.
When it comes to payment processing, you want to make sure you get the most out of all your internet traffic! So, no matter your unique needs, we'll make sure your funnel or e-commerce website runs smoothly and that your payment processing remains stable.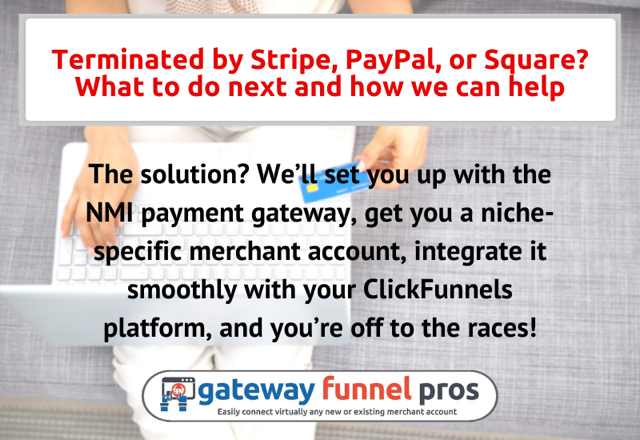 Square, Stripe, and PayPal are great, but…
Square, Stripe, and PayPal do restrict many common products and services.
At Gateway Funnel Pros, we help ClickFunnels entrepreneurs and other e-commerce business owners accept credit card payments for a wide variety of products that are commonly prohibited by solutions like Stripe, PayPal, or Square.
Relying on a low-risk payment solution like Stripe, for example, is rarely a problem if you only sell common items like home improvement products, cosmetics, clothing, or coffee cups. But when selling coaching, online courses, nutritional supplements, age-restricted products, or other more tightly regulated goods like CBD or smoking accessories, these otherwise reliable payment gateways can sometimes become less predictable.
In fact, choosing a low-risk credit card processor for high-risk or medium-risk transactions can result in missing deposits or even closed accounts. It's such a common problem that when someone gets in touch with us and mentions one of those brands, we instantly know what they're going through and how to help.
WAS YOUR PAYMENT GATEWAY SHUT DOWN?
Have you lost your ability to accept credit cards online? What is the solution? Easy. We'll set you up with an easily integrated payment gateway, get you a niche-specific merchant account, integrate it smoothly with your ClickFunnels platform or e-commerce website, and you're off to the races! Contact us any time to begin.
From payment account termination to processing payments
We're big fans of Russel Brunson and what he's achieved with ClickFunnels. It transformed a complex process into a piece of cake for entrepreneurs and e-commerce gurus to take advantage of. We want to transform your payment processing experience similarly. Whether you're selling online coaching, mastermind events, nutritional supplements, or self-improvement products – accepting payments should not be a nightmare.
Are you struggling to find the merchant account and payment gateway you need?
Are you sick of trudging through endless message boards and tech forums trying to find the payment gateway information you need? No more!
With Gateway Funnel Pros, you have a team who'll be in your corner from day one. We'll make sure you have the easiest time possible processing payments online, even if Stripe, Square, or PayPal has terminated your account.
Ready to start ACCEPTING CREDIT CARDS?
Do you want stable payment processing using ClickFunnels, WooCommerce, Shopify, or whichever funnel or shopping cart you've chosen? Of course! Get started today!
Tired of worrying about whether Stripe, PayPal, or Square might terminate your account? Or maybe you're looking to launch your next funnel or website but need a merchant account and payment gateway? We've got you covered!
Contact us today by giving us a call at 1.833.227.7671 or get started now.
Ready to Get Started?
Click the green button, and we'll get right to work!
CONFUSED? Call Us Now …
Toll-Free: 833.227.7671
---
What did Russell Brunson say
about us at Funnel Hackers Live?
Click play on the video below.