Integrate 2 Merchant Accounts with an Awesome Click Funnels Gateway System!
Using ClickFunnels is a fantastic way for entrepreneurs to launch amazing new online ventures, but you already knew this. What used to be hard was finding the best way to accept payments safely and successfully over time. Especially when your funnel grows and you need to send overflow volume to a second merchant account. A GOOD problem to have!!!
This is where we come in at Gateway Funnel Pros. We'll seamlessly integrate just about any additional merchant account with NMI into the ClickFunnels Site Builder. This means you can more easily manage your sales and processing from one platform, managing fraud and even putting up safety nets in case one of your merchant accounts is shut down – all from one funnel gateway!
Safely Accept Payments on ClickFunnels
We help ClickFunnels entrepreneurs process payments for many different products. The ClickFunnels entrepreneurs we work with run amazing funnels for supplements, online coaching, mastermind events, and health and wellness.
Whether you need two new merchant accounts for your ClickFunnels sales or you already have a merchant account you just need to add to your funnel, we'll help!
As you already know, ClickFunnels is amazingly set up to make it easy to create and manage your funnels. What you might not be aware of is how easy it is to actually process payments for a variety of normally difficult industries (like the ones we mentioned earlier, supplements coaching etc) through multiple merchant accounts, all running at the same time!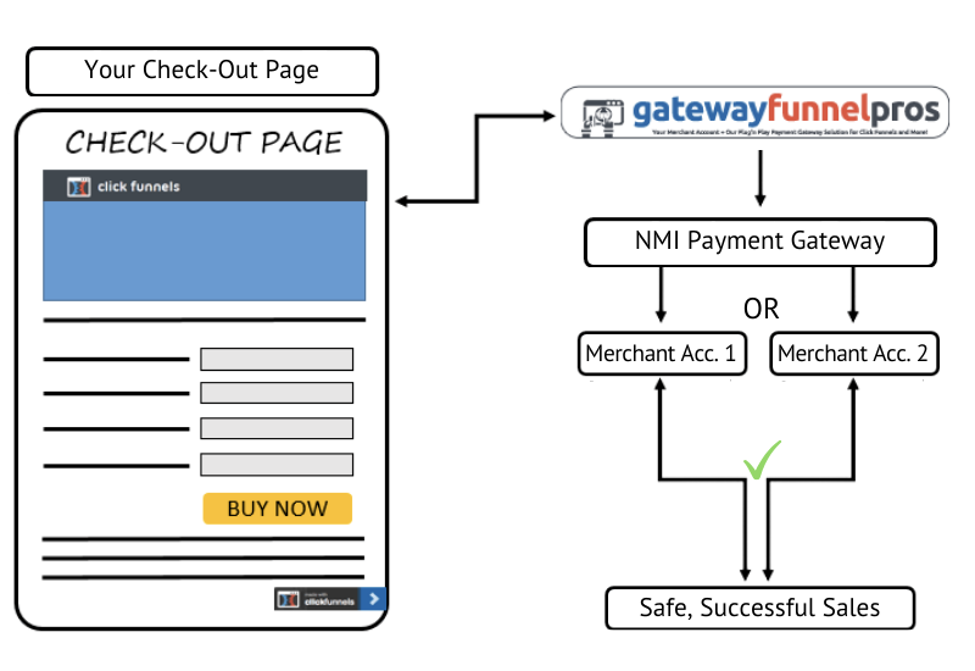 Integrating NMI with ClickFunnels Made Easy
ClickFunnels integrates really well with NMI through a simple drop-down menu. You add your login details, password, and the API key. (We'll help you do it!)
At Gateway Funnel Pros, we can help you whether you need a new merchant account or if you already have a merchant account and simply need NMI.
The main thing when setting up your funnel to accept payments properly and safely is that you have the right merchant account that's set up correctly with NMI. This is what we specialize in.
We'll set it all up for you and integrate it without any issues – making sure your ClickFunnels site can accept payments online successfully over time. A LONG time.
Ready to Start?
If you need a new merchant account for ClickFunnels – we'll help. Simply contact us here to start and we'll have your account set up.
If you already have a merchant account, that's great! We'll simply integrate it with the NMI gateway and you'll have your ClickFunnels successfully accepting credit cards in no time!
OR you can always call us at 1.833.227.7671. We're more than happy to answer all your questions and we can always sign you up together over the phone.
Let Us Help You PREVENT CHARGEBACKS and DISPUTES!
Chargebacks can be the largest reason for 'black marks' and loosing your merchant account or payment processing … leaving you HIGH and DRY with no way to collect YOUR hard earned money. ASK US how we can help you STOP CHARGEBACKS and DISPUTES BEFORE THEY HAPPEN!

Ready to Get Started?
Choose an option below to add the NMI Gateway to your ClickFunnels account
CONFUSED? Call Us Now …
Toll Free: 833.227.7671
What did Russell Brunson say
about us at Funnel Hackers Live?
Click play on the video below.