Integrate 2 Merchant Accounts with an Awesome Click Funnels Gateway System!
ClickFunnels is a fantastic way for entrepreneurs to launch amazing new online ventures, accept credit cards online, build a loyal client base, and grow a stable, recurring revenue stream.
With Gateway Funnel Pros you can add stability, added volume, and price efficiency by integrating a second merchant account within your existing sales funnel!
We'll seamlessly integrate just about any additional merchant account into the ClickFunnels Site Builder. This means you can more easily manage your sales and processing from one platform, manage fraud, and even put up safety nets if one of your merchant accounts has a technical issue– all from one funnel gateway!
Safely Accept Payments on ClickFunnels
We help ClickFunnels entrepreneurs process credit card payments for many different products. The ClickFunnels entrepreneurs we work with run amazing marketing funnels for supplements, online coaching, mastermind events, and health and wellness endeavors.
Whether you need two new merchant accounts for your ClickFunnels sales or you already have a merchant account you need to add to your funnel, we'll help!
As you already know, ClickFunnels is set up to make creating and managing your sales funnels easy. You might not know how easy it is to process payments for difficult industries like supplements, recurring billing, online coaching, etc., through multiple merchant accounts, all through one gateway log-in!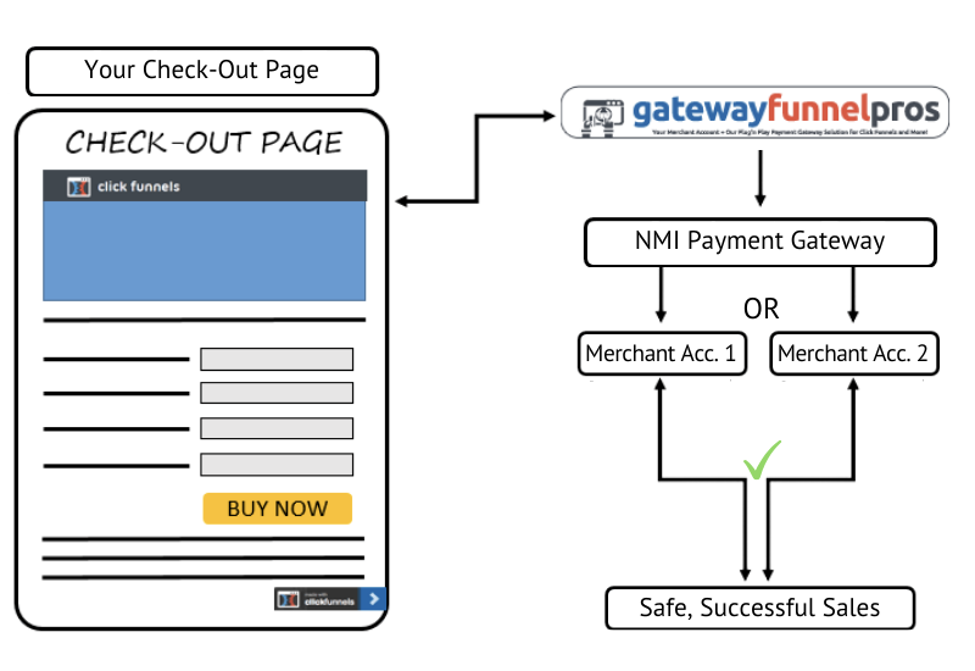 NMI ClickFunnels Integrations Made Easy
ClickFunnels integrates really well with NMI through a simple drop-down menu. All you add is your login details, password, and API key. (Confused? We'll help you do it!)
Whether you need a new merchant account or already have one and only need NMI – Gateway Funnel Pros can help!
For your online funnel to accept payments properly and safely, the main thing is that you have a properly underwritten merchant account that's set up correctly within NMI. This is what we specialize in.
We will help ensure that your ClickFunnels site can successfully accept credit card payments online – for the long haul.
Ready to Start?
If you need a new merchant account for ClickFunnels – we'll help.
If you already have a merchant account, we can help with that too!
We'll integrate everything with the NMI gateway, and you'll have your ClickFunnels website successfully accepting credit cards quickly!
Contact us here, and we'll get to work for you right away!
Ready to Get Started?
Choose an option below to add the NMI Gateway to your ClickFunnels account
CONFUSED? Call Us Now …
Toll Free: 833.227.7671
What did Russell Brunson say
about us at Funnel Hackers Live?
Click play on the video below.