Add your existing Authorize.Net Merchant Account
If you've already got a merchant account, and you've set up your ClickFunnels account, you're already on the right track. Since you use ClickFunnels, you've already made a fantastic decision. Since they offer simple, yet effective and robust features that grow with you, you're in excellent company.
That said, the next big decision is which payment gateway you ought to use. At Gateway Funnel Pros, we specialize in helping funnel entrepreneurs, and we find that most benefit from using the NMI gateway.
Does ClickFunnels integrate with Authorize.Net?
No, not directly, but we can help you swap out almost any Authorize.Net connected merchant account with a ClickFunnels compatible NMI payment gateway without you having to apply for a new merchant account.
Sound confusing? Don't worry; you can easily plug in your existing merchant account(s) and switch to NMI. How do we know you'll be able to do it? Easy, because we'll do it all for you.
We'll cover some of the many reasons why NMI is a great gateway and how we can set it all up for you – so you can focus on what you love: boosting your funnel!
Switching to NMI from Authorize.Net
Are you worried about making the switch if you're already set up with Authorize.Net?
While it can be tricky, especially if you need it to work with a particular merchant account, there are simple solutions. This is where we come in.
Adding NMI and leaving Authorize.Net in place
If you need to leave your Authorize.Net gateway in place, for example, to process on your Shopify site, we can help. We will set up a second gateway for your existing merchant account and leave all your Authorize.Net settings as-is. It's that easy.
Gateway Funnel Pros: The Easy Route to NMI for ClickFunnels
We can easily and quickly take just about any merchant account you might already have and "plug it in" to ClickFunnels by connecting it through the NMI payment gateway.
All you'll need to do is contact us, answer a couple of quick questions through our quick-set-up online application, and you'll be well on your way to accepting payments through your ClickFunnels site with NMI.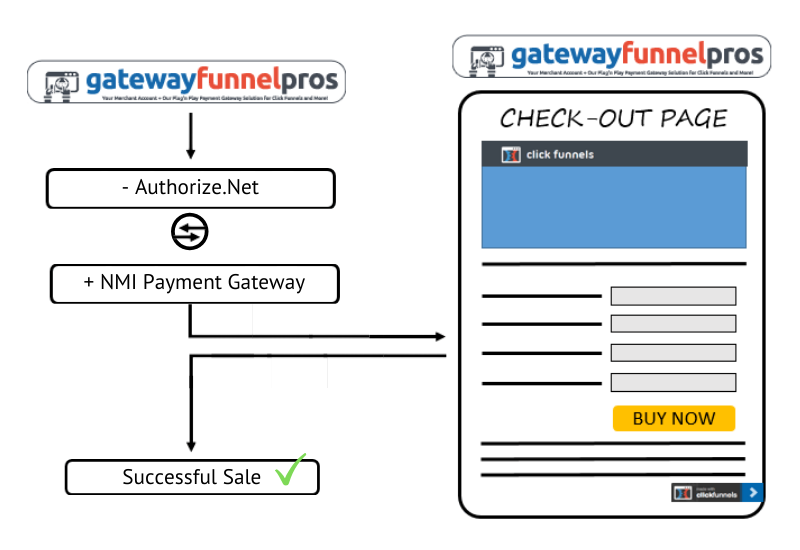 Ready to Start?
Do you need to connect an existing merchant account to ClickFunnels? Click here to start!
OR … call us at 1.833.227.7671, and we can sign you up, right over the phone, and answer any questions.
Let Us Help You PREVENT CHARGEBACKS and DISPUTES!
Chargebacks can be the largest reason for 'black marks' and loosing your merchant account or payment processing … leaving you HIGH and DRY with no way to collect YOUR hard earned money. ASK US how we can help you STOP CHARGEBACKS and DISPUTES BEFORE THEY HAPPEN!

Ready to Get Started?
Choose an option below to add the NMI Gateway to your ClickFunnels account
CONFUSED? Call Us Now …
Toll Free: 833.227.7671
What did Russell Brunson say
about us at Funnel Hackers Live?
Click play on the video below.