Have More Than Two Merchant Accounts? Add'em to ClickFunnels!
You already know the benefits of using ClickFunnels. Simple, flexible, and solid features that make it easy for you to grow your funnel and fuel your entrepreneurial dream! However, some difficulties are impossible to get around when selling anything online – especially when it comes to setting up a payment gateway that can handle multiple merchant accounts.
There are many great gateways out there that fit different products and services better than others. It can be especially frustrating to find the best one to help you drive your sales safely and successfully if you're selling very different product types. We know just how annoying it can be, and it can leave you spending ages trying to find a solution that simply works.
The good news is that we have a solution!
We'll integrate the NMI payment gateway with your ClickFunnels for you, giving you simple, immediate access to a wide range of fantastic features that help you boost the efficiency and safety of your funnel.
Boost Your Funnel Through the ATRI NMI Gateway Feature
The NMI gateway solution we'll set up for you gives you some great features and abilities:
Access all your accounts from one gateway login (no more logging in to 3, 4, 6 gateway accounts to manage your merchant accounts and balance product routing and sales).
Balance product routing, merchant accounts, and volume limits with ease (no need to combine data from different account access points – it's all there).
All of this is made possible due to ATRI NMI load balancing. There is one significant benefit in particular that you'll get from this feature.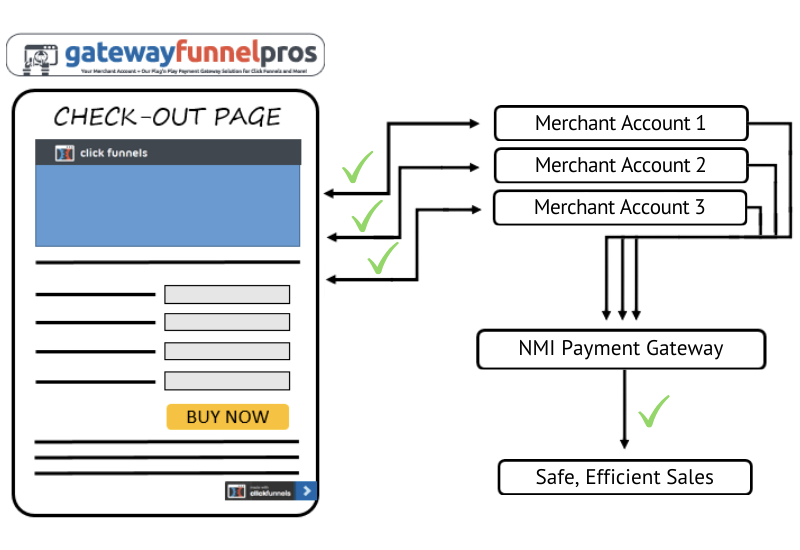 For example, by balancing your product sales through different merchant accounts from one gateway, you can easily align products that have various associated risks with the appropriate merchant accounts. This will help you boost not only the safety of your overall sales, but you'll also be able to get more money out of your sales by routing lower risk products and higher-risk products through the merchant accounts that handle these transactions the best.
This way, you can simply avoid processing payments for merchandise with a low-risk factor through a merchant account that is geared towards high-risk processing – as these generally are more expensive.
Additional Features for Optimizing Your Funnel
As a funnel entrepreneur, you're ready to grow your business exponentially. However, if you're seeing a dramatic increase in new customers, or maybe you're running subscription or membership sales with recurrent billing, you need to manage customer data carefully.
With NMI, complying with PCI requirements is simple, since they provide secure data protection and a secure storage area: the Customer Vault.
Start Growing Your Business Safely and More Effectively
Are you ready to start managing your multiple merchant accounts with NMI to help truly make your funnel take off? Of course you are!
If you need both a merchant account and the NMI gateway set up, that's no problem! Simply click the link, and we'll start setting you up as soon as you get in touch.
Already have merchant accounts, but need the payment gateway to run multiple merchants accounts more successfully? Great! Just click the link to contact us, and we'll have you up and running in no time.
OR call us at 1.833.227.7671, and we can sign you up right over the phone, and answer any questions.
Let Us Help You PREVENT CHARGEBACKS and DISPUTES!
Chargebacks can be the largest reason for 'black marks' and loosing your merchant account or payment processing … leaving you HIGH and DRY with no way to collect YOUR hard earned money. ASK US how we can help you STOP CHARGEBACKS and DISPUTES BEFORE THEY HAPPEN!

Ready to Get Started?
Choose an option below to add the NMI Gateway to your ClickFunnels account
CONFUSED? Call Us Now …
Toll Free: 833.227.7671
What did Russell Brunson say
about us at Funnel Hackers Live?
Click play on the video below.